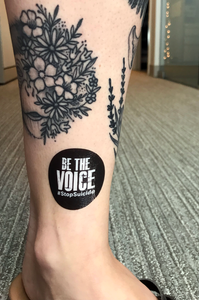 Be The Voice Temporary Tattoo
You may not be a "tattoo person," but come on, admit it: don't you have moments where you feel like rocking a little ink? This all new waterless Be the Voice Temporary Tattoo doesn't involve needles, washes right off, and lets you emblazon your skin with a circular "Be the Voice: #StopSuicide" logo in bad-to-the-bone black. Embrace your inner rebel and rock out a little.
Size: 1.75"
100% of this product purchase will be donated to the North Carolina Chapter of the American Foundation for Suicide Prevention. Learn more about AFSP-NC here: www.afsp.org/northcarolina.
---